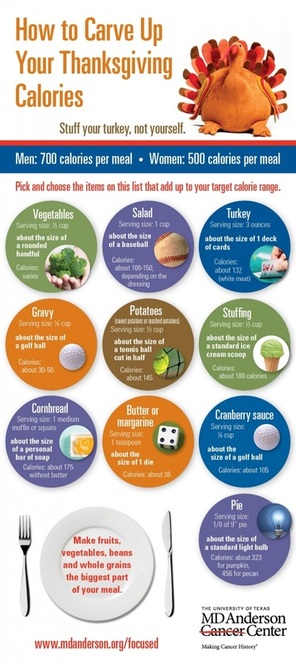 http://visual.ly/how-carve-your-thanksgiving-calories
It's that time of year again! Time for family and friends. Time for holiday spirit. And time for parties. Those three things combined can also mean too much of a good thing!

It's our culture's tradition to be festive and indulgent this time of year. But how can we enjoy the holidays without over-stuffing ourselves on food, drink and fun?

Here are a few tips:
1. Be social Focus on the festivities, rather than food or drinks. Spend your time chatting with people instead of standing in the kitchen or around the bar.

2. Be green Be the one who brings green to the table. Salads, veggies and fruits are healthy and filling options.

3. Be active Don't take a holiday from your healthy lifestyle. Run, walk, ski, hike or go to the gym. On non-party days, follow your usual nutrition plan, and scale back on calories after a gathering.

We can enjoy the holidays and still maintain a healthy lifestyle. So Healthy Holidays to you and yours!