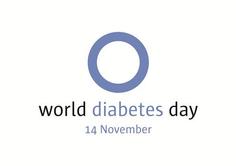 November 14, 2012 is World Diabetes Day.
Diabetes is a chronic disease that arises when the pancreas does not produce enough insulin, or when the body cannot effectively use the insulin it produces. Insulin is a hormone made by the pancreas that enables cells to take in glucose from the blood and use it for energy. Failure of insulin production, insulin action or both leads to raised glucose levels in the blood (hyperglycemia). This is associated with long-term damage to the body and the failure of various organs and tissues.
Diabetes is difficult. It imposes life-long demands on people with diabetes, requiring them to make multiple decisions related to managing their diabetes. People with diabetes need to monitor their blood glucose, take medication, exercise regularly and adjust their eating habits. Furthermore, they may have to face issues related to living with the complications of diabetes and may be required to make considerable psychological adjustments.*
Five Tips for Coping with Diabetes:
1. Comply with practitioners' recommendations
Not many people want to be reliant on medication or supplements. However, missing a dose of prescribed meds/treatments can lead to withdrawal, headaches, anxiety, depression and other physical and emotional symptoms. Make it a daily goal to take medicine and use other treatments as prescribed.
2. Find support
A trustworthy support network of family and friends will give you moral support. A
counselor
can help you work through your issues and set goals without judgment. Support groups designed for people with the same diagnosis can help you realize that you are not alone in your journey.
3. Exercise
Daily exercise increases blood flow to your brain and increases the "feel good" chemicals (endorphins). Physical movement along with outdoor activities leaves us feeling happy and satisfied. Talk with your doctor about the right kinds of exercises for you.
4. Understand what you can control
Making a list of "Things I can't control" and "Things I CAN control" helps put our power into perspective. There are very few things we can't control…and countless things we can! Be sure to include traditional and alternative medicine, emotions, behaviors and relationships in your lists.
5. Be positive
Being optimistic and confident both inwardly and outwardly lead to increased positivity…which improves mental and physical health. Create a motto or mantra with positive key words that you can repeat daily to yourself.
Being diagnosed with a chronic medical condition like diabetes doesn't have to be the end of the world…it can be the beginning of discovering your true strengths and abilities!
*
Taken from the International Diabetes Foundation: http://www.idf.org/