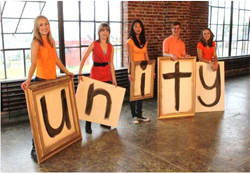 October is National Bullying Prevention Month
Join the movement!
The End of Bullying Begins with Me:
that's the message during PACER's National Bullying Prevention Month in October. It's a time when communities can unite nationwide to raise awareness of bullying prevention through events, activities, outreach, and education. Resources from PACER's National Bullying Prevention Center make it easy to take action.
PACER
created the campaign
in 2006 with a one-week event which has now evolved into a month-long effort that encourages everyone to take an active role in the bullying prevention movement.
We have a variety of resources you can use during October — and throughout the year — to engage, educate, and inspire others to join the movement and prevent bullying where you live. Check out all of the different events and activities and make plans to get involved.
Remember, the End of Bullying Begins With You!

Unity Day: Wednesday, Oct. 10
– Mark your calendar now and make plans to wear orange on Unity Day. That's when scores of people around the country will join the movement to
"Make it Orange and Make it End!"
In 2011, Ellen DeGeneres promoted the cause on television by wearing orange and reminding millions of viewers about the importance of bullying prevention. Facebook supports the cause during October by providing users with information on PACER activities on its safety, educator, and privacy pages. Again in 2012, students will wear orange and use PACER resources to support the cause, hand out orange "UNITY" ribbons at school, and write "UNITY" on their hands or binders. Be sure to 'Attend' and 'Share' the
Unity Day Facebook Event
!
http://www.pacer.org/bullying/nbpm/